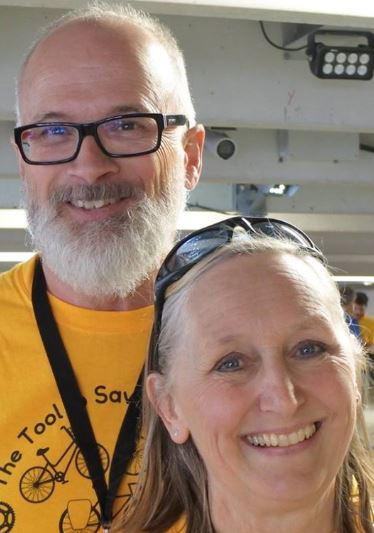 Laura's story
I grew up in what is now Edmonton, and bikes have always been part of my life. I used to cycle to/from school (Avalon, Scona, U of A) and that didn't change when I woke up from a coma in third year Pharmacy. Wasn't able to finish Pharmacy, but did get math/comp sci and have continued to learn to keep my neurons firing. I rode a bike nearly every day, and it's been decades since being diagnosed with what should have been a life-limiting illness. I cycled like my life depends on it, because it did. I re-injured myself badly at an RBC in April 2019, I had previously broken the wings off my L4 and L5 vertebrae so they slipped over each other (Spondylolisthesis). I will likely never be able to cycle again, and we desperately need wonderful people to help us advance the swaps.
Chris' story
The glass is definitely half full, or maybe even more than half full when it comes to the important role of bicycles in my life. Sharing the passion about the power of the bicycle is what makes all the background work for the Bike Swaps worthwhile and rewarding.
I have learned the world is powered by those who dare to act on an idea. The impactful realization of that idea can be so personally vitalizing that there is no turning back from the path to other great projects.
Our story
We bought bikes at auctions for years, fixed them up, and gave them away for the price of parts. We also remember going to look at a bike being sold online. We can tell you that we didn't' feel safe in that garage; we weren't sure how he acquired that bike, nor was the story forthcoming. We also tried to sell a bike online, and that person looked at everything in our garage but the bike. These were pivotal moment in our lives to design a safe place to buy, sell or donate bikes and generate funds for cyclists and safe cycling.
In real life Chris is an engineer and Laura works in software, and we fund these swaps out of our work salaries. We also spend 10-20 hours/week year round on the bike swaps, spend at least $15-42K/year to operate the swaps. The bike swaps are a labour of love, we do them because we both know that bicycles are empowering.
In early 2011 we sat down with a piece of paper and sketched out the process of the swaps and the rest is history; we know that every bike makes a difference in someone's life. We grow every year in the number of bikes and attendees across the province, we keep events green, and we like the end result the best – smiles.